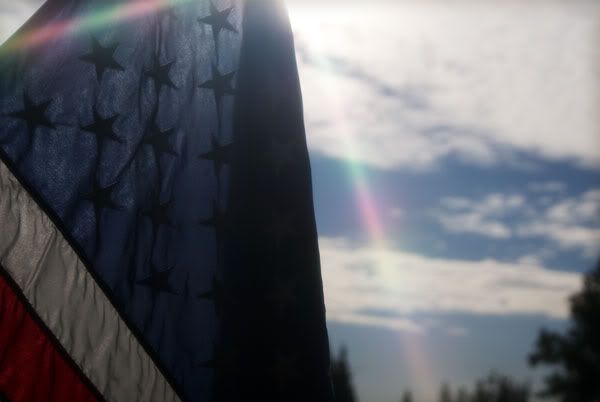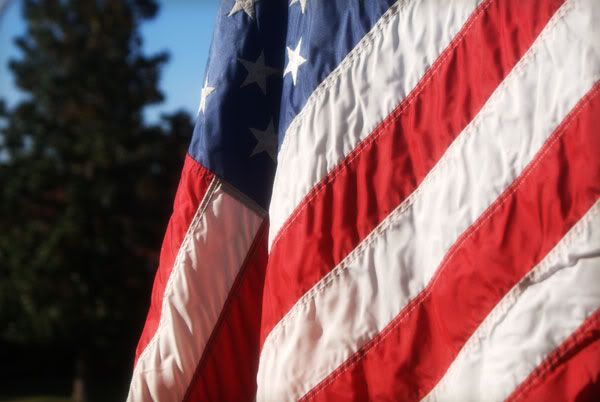 So are you like me?? I get an idea for a picture and then end up taking about a hundred to get the great shot. But then I have to weed through them all and most of them end up looking the same anyway. My intent was to get some shots like the first two with the sun shining through and around the flag. My dad gave me a crossgrain filter that makes lights kind of look star-ry (??) I took a couple like the last one just at the end and I think I like it better than the others.
Anyway, I was feeling a little weary after the Tuesday elections and needed to be reminded that God is in control and that I really do love our country no matter who our leaders are. I guess I'm a sucker for a patriotic scene.
And just to clarify... Heidi says she leaves her pics on her memory card so she can look on her camera for her settings. The program I'm using deletes them after I upload them to my computer whether I want it to or not. Heather, what do you do?? I know these are at ISO 200 and f/5.6 I was in aperature mode so the shutter speed changed depending on what I was focusing on. I need to figure something out there.
Have a beautiful day, Ladies!!