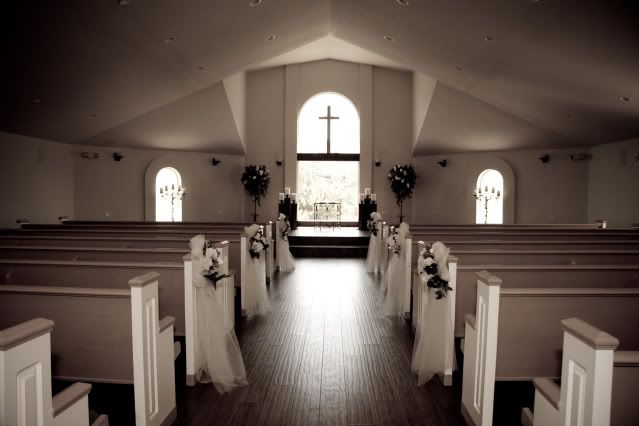 So, for the next couple of weeks I am going to be showcasing my husbands work. :) We were supposed to go to Jim's
niece's
wedding in June, where I was supposed to be the wedding photographer (no pressure!!
LOL
!). But due to
unforeseen
circumstances, only Jim was able to go, therefore he was the photographer. Of course I ended up processing all his work!!! :D I learned a lot of things while working on his pictures:
1. The view from a 6'4" man is totally different from a 5'8" point of view.
2. I didn't have his vision when taking the picture, therefore I had to interpret his point of view.
3. Wedding photographers
definitely
deserve the pay they charge. It is a lot of work, pressure and there is no second chances.
4. It is hard to try to save an important picture that is grainy, black and the only shot of its kind. I still didn't get it right, but I tried.
5. I learned how to take spinach out of the middle of teeth.
6. There are a TON of pictures to process.
7. I don't think I want to be a wedding photographer.
8. I got to "attend" the wedding and enjoy it through Jim's pictures even though I wasn't able to go.
9. You can burn out quickly.
10. It is fun and
satisfying
to see the finished product.
11. How are you supposed to make a room look level with 3 different straight edges that are all different?!? UGH!
12. A window from floor to ceiling is beautiful ... but blows out in a picture and makes everything dark.
13. When you see a smile from what the family sees in the pictures, it is all worth it. :)
So, I hope you don't mind me showing off his work ... o.k., both our work. His pics, my processing. He deserves some credit for what he created. :) Here is the first picture of the church they were married in: